Garansi : PT. Aneka Warna Indah
Masa : 1 Tahun
RICOH GR II
Built-in Wi-Fi & NFC for easy sharing

16 Megapixel APS-C size CMOS Image Sensor

GR ENGINE V & Anti-Aliasing filterless Design

High Speed Auto Focus System with Continuous shooting
Capture the Journey. Image Quality meets Connectivity
Building upon the legacy of the award-winning GR series, the GR II offers the perfect balance between exceptional image quality and outstanding portability. It boasts a high-performance wide-angle lens and 16.2-megapixel APS-C size image sensor, delivering superb image quality with edge to edge sharpness. The GR II comes equipped with built-in Wi-Fi and NFC functions for wireless connection with smartphones and tablets while offering complete remote shooting functionality. Catering to the street and travel photographer, the compact, easy-to-carry GR II offers high-quality, high-resolution images delivered by a large image sensor, equal in size to those in PENTAX DSLR cameras. The GR ENGINE V offers a top sensitivity of ISO 25600, improved AWB control and high-sensitivity noise compensation. Never miss the perfect shot with a high-speed auto focusing system capable of capturing subjects in focus in a mere 0.2 seconds. The GR II provides a total of 17 effect modes, which allow the user to apply a variety of image processing within the camera to create the desired visual expression. Enjoy intuitive design, fast operation and wireless sharing with a compact camera that rivals DSLR image quality with the GR II.
High-quality, high-resolution image delivered by the GR 18.3mm F2.8 lens
The GR II features a compact, high-performance GR lens with a focal length of 28mm (in the 35mm format). This lens incorporates two high-precision aspherical optical elements and a high-refraction, lower-dispersion glass element to minimize distortions and chromatic aberration, while reproducing sharp, high-contrast images even at edges of the image field. Thanks to its 9 blade iris diaphragm, the lens creates a truthful sense of depth and a natural bokeh effect, while allowing the user to capture beautiful light beams at closed-down apertures. The manually adjustable ND (neutral density) filter allows you to open the aperture up, even under bright sunshine, for a wider range of creative expression.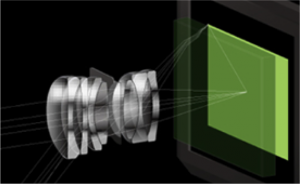 Large image sensor and GR ENGINE V, with upgraded AWB control and high sensitivity noise compensation
Featuring a large, APS-C-size CMOS image sensor with approximately 16.2 effective megapixels, the GR II provides a top sensitivity of ISO 25600. By reprogramming the AWB algorithm, it assures more precise white-balance control under artificial lighting such as fluorescent lights, while reducing the color bleeding of green hues in outdoor shooting.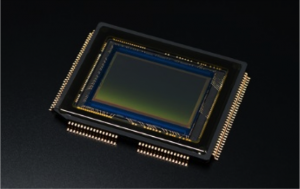 Built-in Wi-Fi and NFC functionality
The GR II comes equipped with Wi-Fi functions for wireless connection with mobile devices such as smartphones and tablet computers. It is also compatible with NFC (Near Field Communication) functions for easy pairing with mobile devices. The GR II provides two types of applications: GR Remote for easy setting of various commands using a mobile device's screen, just like on the camera's LCD panel; and Image Sync for easy transfer and browsing of recorded images using a mobile device.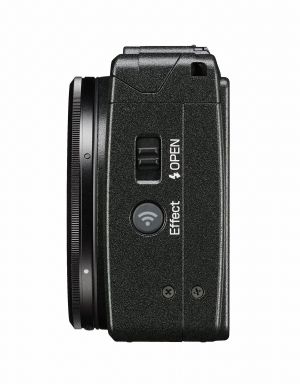 Pocket-sized body to enhance operability and portability
Even though it incorporates a host of Wi-Fi functions, the GR II comes in the same size as the GR. Its exterior housing is made of lightweight, high-rigidity magnesium alloy. The body is designed for maximum holding comfort and operational ease, with all control buttons laid out for easy access and shooting convenience.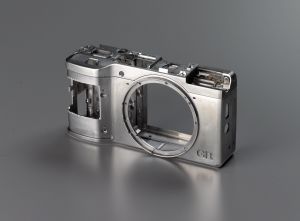 Six effect modes newly added to expand creative options
The GR II provides a total of 17 effect modes, which allow the user to apply a variety of image processing within the camera to create the desired visual expression. Including Clarity and Brilliance, six modes have been newly added to the selection, allowing the user to adjust some parameters to the desired level. The user can set the desired mode simply by pushing the Effect button on the camera's side panel.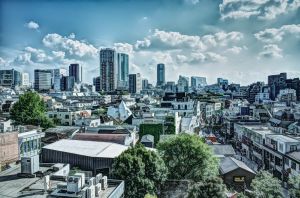 Full HD movie recording for high-quality, extended movie clips
The GR II captures beautiful Full HD movie clips (1920 x 1080 pixels, 16:9 ratio, 30 frame rate) in the H-264 recording format. By teaming this function with the GR lens and the large image sensor, the GR II assures high-quality movies. During movie recording, the user can also adjust exposure compensation and use the AF button to activate the AF operation, whose speed is faster than before. Three new effect modes (Bright, Portrait and Vibrant) can also be used in movie shooting.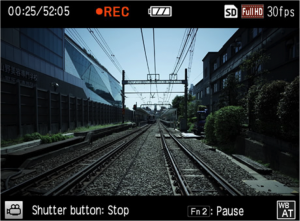 High-speed shooting operation to capture critical shutter chances

The GR II's high-speed AF system captures a subject in focus in a mere 0.2 seconds,* thanks to the optimization of its lens drive mechanism and AF algorithm and the high-speed readout of image data obtained by the image sensor. Start-up time is only one second, and the GR II's AF Continuous Shooting function captures a series of photos at a maximum speed of approximately four images per second, allowing capture of fast-moving subjects, such as athletes and wildlife, all in incredibly sharp focus. Thanks to its increased buffer memory capacity, it continuously captures as many as 10 images in a single sequence during RAW-format shooting. * Measured in compliance to CIPA standards.

Wireless Flash Function

The GR II comes equipped with wireless flash functionality. By selecting wireless flash the built-in flash can trigger external PENTAX flashes as a slave for creative portable lighting control in the studio or out on the streets. * Compatible accessory flash units are the PENTAX AF540FGZ II, AF360FGZ II, AF540FGZ and AF360FGZ.
A full range of shooting functions

The GR II provides an in-camera RAW data development function. After shooting RAW-format images, the user can adjust a variety of parameters within the camera, and output them as JPEG-format image files. The GR II now offers a choice between Normal and Original modes for the peripheral brightness level setting. Also included in the GR II is the new CTE (Color Temperature Enhancement) mode for white-balance control, making it possible to emphasize a predominant color within the image, such as the red in sunset scenes. The GR II also features the PENTAX-original Shutter speed/Aperture Priority (TAv) exposure mode, featured only in PENTAX-brand digital SLR cameras. This innovative mode automatically sets the optimum ISO sensitivity based on the shutter speed and aperture selected by the photographer.

Other features

Built-in non-directional stereo microphone Crop mode* to capture an image at a 35mm or 47mm angle of view (in the 35mm format) Chromatic Moiré Correction function Pixel Mapping function featured for the first time in a GR-Series model GW-3 Wide Conversion Lens (optional accessory) expands the angle of view to 21mm ultra-wide angle Digital Camera Utility 5, the latest utility software compatible with the GR II, included * The size of recorded pixels is fixed at M for the 35mm setting, or at S for the 47mm setting.
Specifications
Type

Compact Digital Camera

Sensor

Type: CMOS Sensor
Size: APS-C
Color depth: 8 bit JPG, 12 bit RAW
Effective pixels: 16.2 MP
Total pixels: 16.9 MP
Pixel mapping: Yes

Lens

Type/construction: Ricoh GR lens, 7 elements, 5 groups (2 aspheric elements), 9 diaphragm blades
Optical zoom: n/a, fixed prime lens
Focal length (equiv.): 18.3mm (28mm)
Digital zoom: n/a
Aperture: f/2.8 – f/16
Filter diameter: 49mm (when using GH-3 Hood & Adapter – sold separately)

Focus System

Type: TTL contrast detection auto focus system
Sensitivity range: LV 1.5 to 17.5 (without AF assist lamp)
Focus modes: Multi AF, Spot AF, Pinpoint AF, Subject tracking AF, MF, Snap, Infinity, Face
detection priority AF (in Auto shooting mode / when Portrait of Effect is set), Continuous AF,
Full Press Snap
Focus point adjustment: Auto, User-Selectable, Center
Focus lock: Yes
AF assist: Yes
Focus range Normal: 11.76" to infinity
Focus range Macro: 3.9" to infinity

Viewfinder

Viewfinder: Yes via hotshoe mounted external optical viewfinder (GV-1, GV-2 - sold separately)

LCD Monitor

3.0" transparent LCD, w/ protective cover
LCD resolution: approx. 1,230,000 dots
LCD framerate: 60 FPS
Wide angle viewable: Yes

Flash

Type: Built-in series control auto flash
Flash modes: Auto, Flash ON, Slow-Sync, Manual, AUTO Red-Eye Flash, Flash ON Red
Eye, Slow-Sync Red-Eye, Wireless
Effective range: 3.3' - 9.8' (auto ISO)
Guide Number: (5.4 / 100 ISO)
Flash exposure compensation: +/- 2 EV (1/3 steps)

External Flash

Type: Hot shoe TTL-A (TTL w/ pre-flash)
Synchronization speed: 1/400 sec
Wireless Flash Function: PENTAX AF360FGZII, PENTAX AF540FGZII

Storage Media

Internal memory: 54 MB
Removable memory: SD, SDHC, SDXC, Eye-Fi (X2 Series, Mobi)
(SDHC/SDXC memory cards conform to UHS-I standards)

Interfaces

Ports: USB 2.0 hi-speed, AV/USB out, HDMI (Micro, Type D)
Video out: NTSC, PAL, HD (HDMI supports HD Auto, 1080p, 720p, 480p)
Microphone: Built-in monaural

Power Supply

Power source: Rechargeable Li-Ion battery DB-65
Recordable images: Li-Ion approx. 320 (CIPA)
Playback time: Li-Ion approx. 190 min
Movie recording time: 25 min. maximum time per clip
AC adapter available: Yes (AC Adapter AC-5c - sold separately)

Physical Specs

Body dimensions (W x H x D): 4.6" x 2.5" x 1.4"
Body weight
Without battery or removable memory: 7.8 oz (221g)
Loaded and ready: 8.9 oz (251g)
Primary construction material(s): Magnesium Alloy covers
Operating temperature: 32-104°F
Ruggedized features: n/a

Language Support

(Depends on shipping destination). GR II's shipped outside of Asia or Japan will include:

English, French, Germany, Spanish, Portuguese, Italy, Dutch, Danish, Swedish, Finnish, Polish,
Czech, Hungarian, Turkey, Greek, Russian, Thai, Korean, Simplified Chinese, Traditional Chinese,
Japanese.

Metering System

Type: TTL
Sensitivity range: EV 1.8 to 17.8 (ISO 100)
Metering patterns: (multi, center, spot)
Exposure compensation: +/- 4 EV (1/3 steps)
Exposure lock: Yes.
Exposure bracketing: +/- 2 EV (3 frames, 1/2 or 1/3 steps, individual image exposure adjustable)

ISO Sensitivity

Auto, Auto-Hi (Maximum ISO / Minimum ISO selectable), Manual ISO 100 - 25600

White Balance

Auto, Multi-P AUTO, Outdoors, Shade, Cloudy, Incandescent 1, Incandescent 2, Daylight FL,
Neutral White FL, Cool White FL, Warm White FL, CTE, CT, Manual,
Manual mode(s): Yes
WB fine adjustment: +/- 8 steps B-A axis or G-M axis
White Balance Bracket Function: Yes

Shutter

Type: Mechanical and electronic shutter mechanism
Shutter speed: 1/4000 – 300 sec., Bulb, Time

Capture Modes

Mode selection: Auto shooting mode, Program shift mode, Aperture-Priority mode, Shutter-
Priority mode, Shutter/Aperture priority mode, Manual exposure mode, Bulb mode, Time mode, Movie, My Settings Mode.
17 Effects Modes: B&W, B&W TE (Temperature Extended), High Contrast B&W, Cross
Process, Positive Film, Bleach-Bypass, Retro, Miniaturize, Shift Crop, High-Key, HDR Tone,
Clarity, Brilliance, Slight, Vibrant, Bright, Portrait.
Green simplified mode available: YES
Face Detection: AF & AE - available in Auto modes for up to 10 faces.
Top Dial Control: Auto, P, Av, Tv, TAv, M, Movie, My1, My2, My3
Date Imprint: Yes (date, date & time)
Digital filters (capture): n/a
Electronic level: Yes (horizontal tilt, forward-back pitch)
File/Folder customization: Embed copyright

Drive Modes

Mode selection: Continuous shooting, Self-timer, Interval shooting, Effect bracketing, Dynamic
range bracketing, Contrast bracketing, Color space setting, FA/Move Target, Dynamic range
compensation, Multiple exposure shooting, Interval composite, Noise reduction, Histogram, Grid
Guide, Depth-of-field indicator, Electronic level indicator.

Continuous FPS: Approx. 4 fps (RAW, RAW + or JPEG)
Multi-exposure: 2-4 shots, auto exposure adjustment, save individual images
Interval: Unlimited shots, 5s to 1h interval in 5s increments
HDR: Available as Dynamic Range Double Shot scene mode
Cable switch: Yes (Cable Switch CA-2 - sold separately)

Playback Modes

Mode selection: Auto Rotate, Highlight Alert, Thumbnail View, Enlarged Display (up to 16×), Slideshow, Protect, Resize, Skew Correction, Level Compensation, White Balance Compensation, Trim, DPOF Setting, Color Moire Correction, RAW Development, Clip Movie File, Save still image from movie

Computer Requirements

WINDOWS: Windows 8 / 8.1 (32bit/64bit) / Windows 7 (32bit/64bit) / Windows Vista (32bit/64bit)
Mac: OS X 10.10 / 10.9 / 10.8 / 10.7

Memory

Internal memory: 54 MB

Dimensions

4.6" x 2.5" x 1.4"

Weight

Without battery or removable memory: 7.8 oz (221g)
Loaded and ready: 8.9 oz (251g)