Garansi : PT. Alta Nikindo
Masa : 1 Tahun
20.8MP FX-Format CMOS Sensor
EXPEED 5 Image Processor
3.2" 2.36m-Dot Touchscreen LCD Monitor
4K UHD Video Recording at 30 fps
Multi-CAM 20K 153-Point AF System
Native ISO 102400, Extend to ISO 3280000
12 fps Shooting for 200 Shots with AE/AF
180k-Pixel RGB Sensor and Group Area AF
14-Bit Raw Files and 12-Bit Raw S Format
1000 Base-T Gigabit Wired LAN Support
Innovation for inspiration.
What determines when Nikon releases a full-frame flagship camera? When technological innovation demands it. Introducing the D5, an FX-format DSLR that makes the impossible possible. Huge advancements in sensor design, autofocus, metering and image processing result in thrilling new capabilities—low light shooting all the way to ISO 102,400 (expandable to an unheard of ISO 3,280,000), precise AF detection and tracking across that entire ISO range, regardless of your subject's speed or direction changes, blazing fast 12 fps continuous shooting, 4K UHD video and, of course, image quality that captures the hearts and minds of your viewers. This is not iteration, friends. This is innovation...spectacular innovation. How will it change the way you shoot?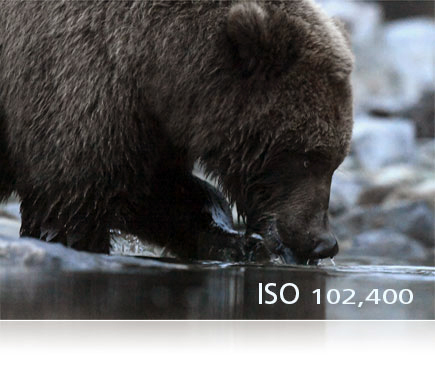 Game-changing low light capabilities
Nikon's widest native ISO range ever
The low light performance of the D5 might make it a legend. With Nikon's widest native ISO range (100 to 102,400) and highest expanded range (up to Hi-5 ISO 3,280,000), advancements in noise reduction and color fidelity and a next-generation AF system that performs in near darkness (EV -4), a world of new shooting opportunities has opened. Capture clear, sharp images you may not have attempted before—at night, in dark reception halls, arenas and more. For surveillance and security applications, this expanded ISO range means getting a shot others can't see without a flash.

DPReview Field Tests the Nikon D5
Flagship Autofocus Performance Put To The Test
To test the D5's market-leading autofocus system, DPReview took the camera out to Santa Fe, and put one in the hands of professional photographer Michael Clark. In this field test, DPReview's technical editor Rishi Sanyal joined Michael to shoot a range of activities, including dirt bikes and white-water kayaking. Watch the video to see how the D5 performed.

EXPEED 5, Nikon's most powerful processor ever
Masterful image quality
The sheer imaging power of the D5 is exhilarating. With its Nikon developed 20.8MP FX-format CMOS sensor, the D5 is the highest resolution full-frame Nikon flagship ever and ready for your next challenge. Nikon's superior image processor has been updated to EXPEED 5 to harness the power of this remarkable new sensor, and a second processor has been added just for autofocus. All of the exquisite detail and textures, vibrant colors and rich tonality delivered by NIKKOR lenses is captured in flawless precision, even in extreme low light. Create images that move people.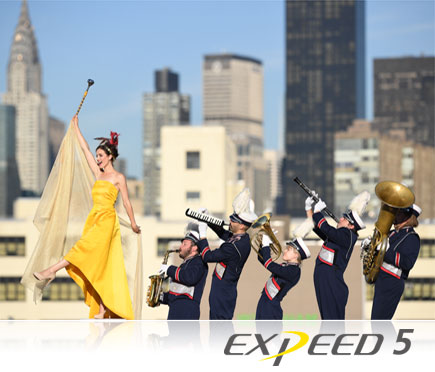 Stay on top of your game
The speed to capture decisive moments
When you hear the D5 shooting at full speed—12 fps with fulltime AF and AE, 14 fps with fixed focus and AE with mirror up—you know the game has changed. For the first time in a Nikon DSLR, a second processor is dedicated solely to autofocus operation and computing. A new shutter and mirror sequencing mechanism nearly eliminates blackout time and mirror slap for bright, consistent views during high-speed capture. EXPEED 5 and a high performance buffer handle up 200 NEF (RAW) and/or Large JPEG images during one high-speed burst—enough to cover an entire 100m sprint without taking your finger off the shutter release button. The new 180K RGB Advanced Scene Recognition System pulls it all together and ensures every shot has optimal exposure.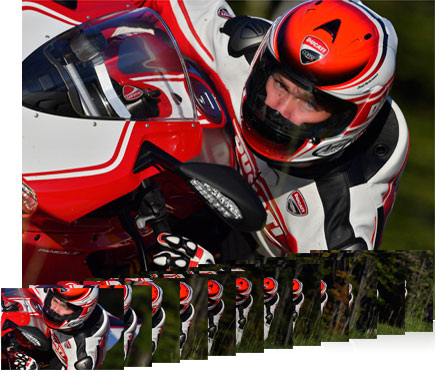 Capture images that defy the odds
Nikon's fastest, most accurate AF system yet
The D5 ushers in a new era of autofocus with the Multi-CAM 20K AF sensor module. It uses 153 focus points with 99—yes 99—cross-type sensors and a fully dedicated AF processor, and it works in near darkness (EV -4). Small subjects moving at high speed, even in low light, can be tracked with remarkable precision. The system is configurable in 153-, 72- and 25-point coverage when used with Continuous AF. All 153 points are compatible with AF NIKKOR lenses f/5.6 or faster, and 15 central points work with an effective aperture of f/8. Whether you're shooting a high-speed race or A-listers on the red carpet, the D5 has you covered.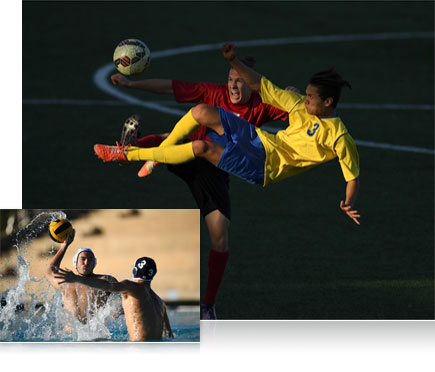 Moviemaking flexibility
4K UHD video in light others wouldn't dare
For the first time in a full-frame Nikon DSLR, record 4K Ultra High Definition (UHD) video with dot-by-dot readout for maximum image quality. Capture 3840 x 2160 at 30/25/24p with an angle of view approx. 1.5x lens focal length, or record Full HD 1080 video at 60/30/24p. Shoot stunning 4K UHD Time-lapse, right in camera. Auto ISO handles smooth lighting transitions from ISO 200 to the sensitivity of your choice (all the way up to Hi-5). Enjoy all the professional video capabilities of D4S and D810—simultaneous external and internal recording, Flat Picture Control, Zebra Stripes, a built-in stereo microphone with 20-step increment adjustments and so much more. Combine the D5's low light capabilities and the versatility of NIKKOR lenses, and your next video project is bound to be acclaimed.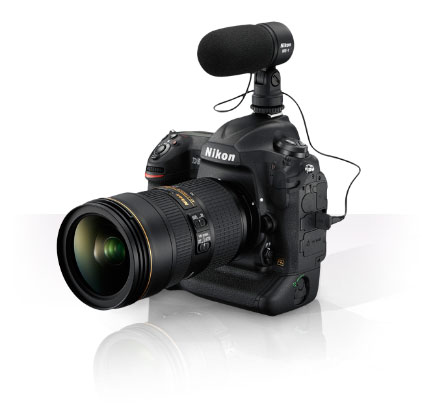 A smooth operator
Incorporating feedback from the field, the D5 is engineered to reduce the stress factors of shooting all day. Improved ergonomics and an expanded illuminated button layout put key controls at your fingertips. A high resolution XGA Touchscreen LCD with a smartphone-like interface makes it easy to select AF points or Spot White Balance in Live View, swipe through shots, pinch to zoom, edit file names and more. New double XQD card slots* easily handle the camera's incredible burst shooting capacity and keep the buffer cleared. All of this in a light and durable magnesium-alloy body with extensive weather sealing.
*A new modular design for memory lets you select a model with either dual XQD slots or dual high-speed CF slots.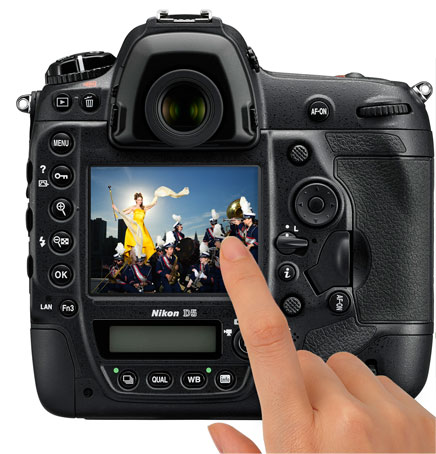 Change your perspective
The D5 uses the versatile "F" lens mount that pros and advanced shooters have come to rely on. Use your prized NIKKOR glass to bring out the absolute best in your photos and videos. Pair the high speed of the D5 with a NIKKOR lens equipped with SPORT VR mode, like AF-S NIKKOR 500mm or 600mm f/4E, and experience unprecedented smoothness and precision. SPORT VR mode delivers a stable viewfinder image when tracking high-speed movement; even subjects moving quickly and unpredictably can be captured in stunning detail.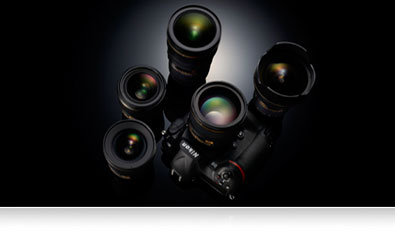 Ready for the future of creative lighting
The D5 is the first Nikon full-frame DSLR to incorporate control for its new radio controlled Advanced Wireless Lighting system. With the optional WR-A10 (Wireless Remote Adapter) and WR-R10 Wireless Remote Controller (transceiver) (requires firmware version 3.0 or later), the D5 can control and fire up to six groups of SB-5000 Speedlights around obstacles, corners, in bright sunlight—even in another room—up to 98 feet away. Access control right from the D5's menu and shine light on yet more shooting opportunities. Of course, the D5 is also fully compatible with SB-910, SB-800 and SB-700 series Speedlights.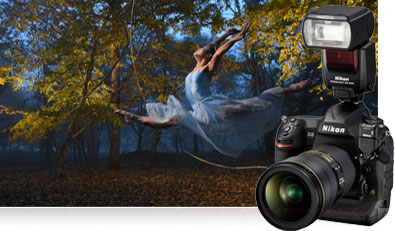 Streamlined workflow
Shoot more and wait less with the D5's ultrafast communication system, which performs over 1.5 times faster than D4S. Transfer files over LAN at blazing speeds: approx. 400 mbps wired and 130 mbps wirelessly with the new optional WT-6A Wireless Transmitter, which supports the IEEE802.11ac standard and extends connectivity distance to 656 ft. For even faster performance, shoot in two smaller RAW sizes: RAW size S (12 bit, uncompressed) and RAW size M, both of which maintain exceptional sharpness and detail.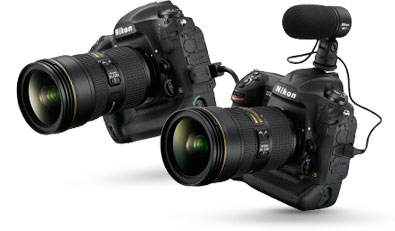 XQD or Compact Flash memory? Your choice.
The D5 lets you select your preference—dual XQD card slots or dual Compact Flash slots. The XQD format is designed to take advantage of the speed that the D5 can offer photographers. For instance, the Nikon D5 can shoot at 12 frames per second and can record up to 200 NEF (RAW) and/or Large JPEG images during one high-speed burst. For photographers shooting sports, action and other fast paced events or 4K UHD video, it is vital to have a media card format that can keep up with the camera. XQD is the solution.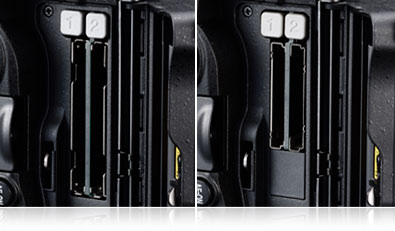 Specifications
Type

Single-lens reflex digital camera

Lens Mount

Nikon F bayonet mount
CollapseImage Sensor
Picture Angle

Nikon FX format

Effective Pixels (Megapixels)

20.8

million
Sensor Size

35.9

mm x

23.9

mm
Image Sensor Format

FX

Image Sensor Type

CMOS

Total Pixels

21.33

million
Dust-Reduction System

Image sensor cleaning




Image Dust Off reference data (optional Capture NX-D software required)

Dust-Off Reference Photo

Yes

Image Area (pixels)FX-format
(L)

5,568 x 3,712


(M)

4,176 x 2,784


(S)

2,784 x 1,856


1:2 format (30 x 20)
(L)

4,640 x 3,088


(M)

3,472 x 2,312


(S)

2,320 x 1,544


5:4 format (30 x 24)
(L)

4,640 x 3,712


(M)

3,472 x 2,784


(S)

2,320 x 1,856


DX-format
(L)

3,648 x 2,432


(M)

2,736 x 1,824


(S)

1,824 x 1,216



Photographs taken during movie recording at a frame size of 3,840 x 2,160:

3,840 x 2,160


FX-format photographs taken during movie recording at a frame size of 1,920 x 1,080 or 1,280 x 720:
(L)

5,568 x 3,128


(M)

4,176 x 2,344


(S)

2,784 x 1,560


DX-format photographs taken during movie recording at a frame size of 1,920 x 1,080 or 1,280 x 720:
(L)

3,648 x 2,048


(M)

2,736 x 1,536


(S)

1,824 x 1,024


Photographs taken during movie recording at a frame size of 1,920 x 1,080 crop:

1,920 x 1,080
CollapseFile System
File Format Still Images

JPEG: JPEG-Baseline Compliant with Fine (approx 1:4), Normal (approx 1:8) or Basic (approx 1:16) Compression




NEF (RAW) + JPEG: Single Photograph Recorded in both NEF (RAW) and JPEG Formats




NEF (RAW): 12 or 14 bit, lossless compressed, compressed, or uncompressed; large, medium, and small available (medium and small images are recorded at a bit depth of 12 bits using lossless compression)




TIFF (RGB)

Storage Media

CompactFlash© (CF) (Type I, compliant with UDMA)




XQD Type Memory

Card Slot

2 XQD memory type cards or




2 CompactFlash© (CF) cards

File System

Compliant with

DCF (Design Rule for Camera File System) 2.0




EXIF 2.3 (Exchangeable Image File Format for Digital Still Cameras)




PictBridge
CollapseViewfinder
Viewfinder

Eye-level Pentaprism Single-Lens Reflex Viewfinder

Viewfinder Frame Coverage

FX (36x24):

100% Horizontal and 100% Vertical

(Approx.)


1.2x (30x20):

97% Horizontal and 97% Vertical

(Approx.)


DX (24x16):

97% Horizontal and 97% Vertical

(Approx.)


5:4 (30x24):

97% horizontal and 100% vertical

(Approx.)
Viewfinder Magnification

0.72x (50 mm f/1.4 lens at infinity, –1.0 m–1)

(Approx.)
Viewfinder Eyepoint

17 mm (-1.0 m¯¹)

Viewfinder Diopter Adjustment

-3 to + 1m¯¹

Focusing Screen

Type B BriteView Clear Matte Mark IX screen with AF area brackets (framing grid can be displayed)

Reflex Mirror

Quick-return type

Mirror Lock Up

Yes
CollapseLens
Lens Aperture

Instant-return type




Electronically Controlled

Depth-of-field Control

Pressing Pv button stops lens aperture down to value selected by user (A and M modes) or by camera (other modes)

Lens Compatibility at a Glance***

AF-S or AF lenses fully compatible




Metering with AI lenses (exposure modes A and M only)

Compatible Lenses

AF NIKKOR lenses, including type G, E, and D lenses (some restrictions apply to PC lenses) and DX lenses (using DX 24 x 16 1.5x image area), AI-P NIKKOR lenses, and non-CPU AI lenses (A and M modes only).




Electronic rangefinder can be used with lenses that have a maximum aperture of f/5.6 or faster (the electronic rangefinder supports 15 focus points with lenses that have a maximum aperture of f/8 or faster, of which 9 points are available for selection).




IX NIKKOR lenses, lenses for the F3AF, and non-AI lenses cannot be used.
CollapseShutter
Shutter Type

Electronically controlled vertical-travel focal-plane mechanical shutter




Electronic front-curtain shutter available in mirror up release mode

Shutter Speed

1/8000 to 30 sec. in steps of 1/3, 1/2, or 1 EV, Bulb, Time, X250

Fastest Shutter Speed

1/8000

sec.
Slowest Shutter Speed

30

sec.
Flash Sync Speed

Up to

1/250 sec.




Synchronizes with shutter at 1/250s or slower

Bulb Shutter Setting

Yes

Shutter Release Modes

Continuous low-speed [CL] mode




Continuous high-speed [CH] mode




Mirror-up [Mup] mode




Quiet Shutter Release




Self-timer Mode




Single-frame [S] mode

Continuous Shooting Options

CH: Up to

10-12

frames per second


CL: Up to

10 frames per second


Quiet Continuous Mode: Up to

3

frames per second

Top Continuous Shooting Speed at full resolution

12

frames per second


14

frames per second with mirror up

Self-timer

2, 5, 10, 20 sec.; 1 to 9 exposures at intervals of 0.5, 1, 2, or 3 sec.


Timer duration electronically controlled
CollapseExposure
Exposure Metering System

TTL exposure metering using approximately 180K (180,000) pixels RGB sensor

Metering Method

Center-weighted: Weight of 75% given to 12 mm circle in center of frame. Diameter of circle can be changed to 8, 15, or 20 mm, or weighting can be based on average of entire frame (non-CPU lenses use 12-mm circle)




Matrix: 3D Color Matrix Metering III (type G, E, and D lenses); Color Matrix Metering III (other CPU lenses); Color Matrix Metering available with non-CPU lenses if user provides lens data




Spot: Meters 4 mm circle (about 1.5% of frame) centered on selected focus point




Highlight-weighted: Available with type G, E, and D lenses; equivalent to center-weighted when non-CPU lens is used

Metering Range

-3 ± 20 EV (Matrix or center-weighted metering)




0 to 20 EV (Highlight-weighted metering)

Exposure Meter Coupling

Combined CPU and AI (collapsible meter coupling lever)

Exposure Modes

Aperture-Priority (A)




Manual (M)




Programmed auto with flexible program (P)




Shutter-Priority Auto (S)

Exposure Compensation

±5 EV in increments of 1/3, 1/2 or 1 EV

Exposure Bracketing

2 to 5 frames in steps of 2 or 3 EV




2 to 9 frames in steps of 1/3, 1/2, 2/3 or 1 EV

Exposure Lock

Luminosity locked at detected value with AE-L/AF-L button

Picture Control

Flat




Landscape




Monochrome




Neutral




Portrait




Standard




User-customizable Settings




Vivid
CollapseSensitivity
ISO Sensitivity

ISO

100

-

102,400




Can also be set to approx. 0.3, 0.5, 0.7, or 1 EV (ISO 50 equivalent) below ISO 100 or to approx. 0.3, 0.5, 0.7, 1, 2, 3, 4, or 5 EV (ISO 3,280,000 equivalent) above ISO 102,400; auto ISO sensitivity control available



Lowest Standard ISO Sensitivity

100

Highest Standard ISO Sensitivity

102,400

Lowest Expanded ISO Sensitivity

Lo-1 (ISO 50 equivalent)

Highest Expanded ISO Sensitivity

Hi-5 (ISO 3,280,000 equivalent)

Expanded ISO Sensitivity Options

Lo-1 (ISO 50 equivalent)




Hi-1 (ISO 204,800 equivalent)




Hi-2 (ISO 409,600 equivalent)




Hi-3 (ISO 819,200 equivalent)




Hi-4 (ISO 1,638,400 equivalent)




Hi-5 (ISO 3,280,000 equivalent)

Long Exposure Noise Reduction

Yes

High ISO Noise Reduction

Low




Normal




High




Off

Active D-Lighting

Auto




Extra High 2




Extra High 1




High




Normal




Low




Off

D-Lighting Bracketing

2 frames using selected value for one frame




3–5 frames using preset values for all frames
CollapseFocus/Autofocus
Single-Point AF Mode

Yes

Dynamic AF Mode

Number of AF points: 25, 72 and 153 (3D-tracking)

Auto-Area AF Mode

Yes

Autofocus System

Nikon Advanced Multi-CAM 20K autofocus sensor module with TTL phase detection and fine-tuning, and 153 focus points (including 99 cross-type sensors and 15 sensors that support f/8), of which 55 (35 cross-type sensors and 9 f/8 sensors) are available for selection

Detection Range

-4 to +20 EV (ISO 100, 68°F/20°C)

Lens Servo

Autofocus (AF): Single-servo AF (AF-S); Continuous-servo AF (AF-C); auto AF-S/AF-C selection (AF-A); predictive focus tracking activated automatically according to subject status




Manual focus (MF): Electronic rangefinder can be used

AF-area Mode

25, 72, or 153 point Dynamic-area AF




Auto-area AF




Single-point AF




3D-tracking




Group-area AF

Focus Lock

Focus can be locked by pressing shutter-release button halfway (single-servo AF) or by pressing the center of the sub-selector

Focus Modes

Continuous-servo (AF-C)




Face-Priority AF available in Live View only and D-Movie only




Full-time Servo (AF-A) available in Live View only and D-Movie only




Manual (M) with electronic rangefinder




Normal area




Single-servo AF (AF-S)




Wide area

Maximum Autofocus Areas/Points

153

Autofocus Sensitivity

-4 to +20 EV (ISO 100, 20°C/68°F)

Autofocus Fine Tune

Yes
CollapseFlash
Flash Bracketing

2 to 5 frames in steps of 2 or 3 EV




2 to 9 frames in steps of 1/3, 1/2, 2/3, or 1 EV

X-Sync Speed

1/250

Top FP High Speed Sync

Up to

1/8000

Flash Control

TTL: i-TTL flash control using RGB sensor with approximately 180K (180,000) pixels; i-TTL balanced fill-flash for digital SLR is used with matrix, center- weighted, and highlight-weighted metering, standard i-TTL fill-flash for digital SLR with spot metering

Flash Sync Modes

Auto FP High-Speed Sync supported




Front-curtain sync (normal)




Rear-curtain sync




Red-Eye reduction




Red-Eye reduction with slow sync




Slow rear-curtain sync




Slow sync

Flash Compensation

-3 to +1 EV in increments of 1/3, 1/2 or 1 EV

Flash-ready Indicator

Lights when optional flash unit such as SB-5000, SB-910, SB-900, SB-700, SB-400, SB-300 or SB-R200 is fully charged

Accessory Shoe

Yes

Nikon Creative Lighting System (CLS)

CLS Supported

Flash Sync Terminal

Yes
CollapseWhite Balance
White Balance

Auto (3 types)




Choose color temperature (2500K–10000K)




Cloudy




Direct Sunlight




Flash




Fluorescent (7 types)




Incandescent




Preset manual (up to 6 values can be stored, spot white balance measurement available during live view)




Shade

White Balance Bracketing

2 to 9 exposures in increments of 1, 2 or 3 EV
CollapseLive View
Live View Shooting

Photography Live View Mode with available Silent Mode




Movie Live View Mode

Live View Lens Servo

Autofocus (AF): Single-servo AF (AF-S); full-time-servo AF (AF-F)




Manual focus (MF)

Live View AF-Area Mode

Face-priority AF




Wide-area AF




Normal-area AF




Subject-tracking AF

Live View Autofocus

Contrast-detect AF anywhere in frame (camera selects focus point automatically when face-priority AF or subject-tracking AF is selected)
CollapseMovie
Movie Metering

TTL exposure metering using main image sensor

Movie Maximum Recording Time

3 minutes at high quality only for 4K UHD 3840 x 2160/24/25/30p recording




10 minutes at highest quality or 20 minutes at normal quality setting for 1920 x 1080/50/60p recording




20 minutes at highest quality for all recording options except 4K UHD, 1920 x 1080/50/60p and 640 x 424/25/30p




29 minutes 59 seconds at normal quality for all recording options except 4K UHD, and 1920 x 1080/50/60p

Movie File Format

MOV

Movie Video Compression

H.264/MPEG-4 Advanced Video Coding

Movie Audio Recording Format

Linear PCM

Movie

4K UHD 3,840x2,160 / 30 fps




4K UHD 3,840x2,160 / 25 fps




4K UHD 3,840x2,160 / 24 fps




Full HD 1,920x1,080 / 60 fps




Full HD 1,920x1,080 / 50 fps




Full HD 1,920x1,080 / 30 fps




Full HD 1,920x1,080 / 25 fps




Full HD 1,920x1,080 / 24 fps




Full HD 1,920x1,080 crop / 60 fps




Full HD 1,920x1,080 crop / 50 fps




Full HD 1,920x1,080 crop / 30 fps




Full HD 1,920x1,080 crop / 25 fps




Full HD 1,920x1,080 crop / 24 fps




HD 1,280x720 / 60 fps




HD 1,280x720 / 50 fps




Actual frame rates for 60p, 50p, 30p, 25p, and 24p are 59.94, 50, 29.97, 25, and 23.976 fps respectively




High quality available at all frame sizes, normal quality available at all sizes except 3,840 x 2,160

Movie Audio

Built-in microphone, stereo




External stereo microphone (optional)




Microphone sensitivity can be adjusted
CollapseMonitor
Monitor Size

3.2

in. diagonal
Monitor Resolution

2,359,000

Dots
Monitor Type

Wide Viewing Angle Touch TFT-LCD (Touch for playback only)

Monitor Angle of View

170

-degree wide-viewing angle

Monitor Adjustments

Brightness,

5

levels

Virtual Horizon Camera Indicator

Yes




Also visible in LiveView Modes




Also visible in Viewfinder
CollapsePlayback
Playback Functions

Auto Image Rotation




Full-frame and thumbnail (4, 9, or 72 images)




GPS data display




Highlights




Histogram Display




Image Comment




IPTC information embedding and display




Movie Playback




Movie Slideshow




Photo Information




Playback with Zoom




Slideshow




Voice Memo

In-Camera Image Editing

Color Balance




D-Lighting




Distortion Control




Edit Movie




Filter Effects




Image Overlay




Monochrome




NEF (RAW) Processing




Perspective Control




Red-Eye Correction




Resize




Side-by-Side Comparison




Straighten




Trim

Image Comment

Yes
CollapseInterface
Interface

10-pin RemoteTerminal




HDMI output: Type C mini-pin HDMI connector




Headphone Connector




Stereo Microphone Input 3.5mm




SuperSpeed USB (USB 3.0 Micro-B connector); connection to built-in USB port is recommended




Ethernet: 1000 Base-T (Gigabit) Wired LAN

Wi-Fi Functionality

WT-5A




WT-6A

GPS

GP-1A GPS unit

Save/Load Camera settings

Yes
CollapseMenus
Total Custom Settings

64

My Menu

Yes with customization

Recent Settings

Yes

Supported Languages

Arabic




Bengali




Brazilian Portuguese




Bulgarian




Chinese (Simplified and Traditional)




Czech




Danish




Dutch




English




Finnish




French




German




Greek




Hindi




Hungarian




Indonesian




Italian




Japanese




Korean




Marathi




Norwegian




Persian




Polish




Portuguese




Romanian




Russian




Serbian




Spanish




Swedish




Tamil




Telugu




Thai




Turkish




Ukrainian




Vietnamese

Date, Time and Daylight Savings Time Settings

Yes




The camera clock is powered by a separate, non-rechargeable CR1616 lithium battery with a life of about two years.

World Time Setting

Yes
CollapsePower
Battery / Batteries

EN-EL18a Lithium-ion Battery

Battery Life (shots per charge)

3,780

shots (CIPA)
Movies:

Approx. 110 minutes of HD footage

AC Adapter

EH-6b AC Adapter




Requires EP-6 Power Supply Connector

Battery Charger

MH-26a Quick Charger
CollapseMiscellaneous
Tripod Socket

1/4 in.

Approx. Dimensions (Width x Height x Depth)

6.3

in.

(

160

mm

)

x

6.3

in.

(

158.5

mm

)

x

3.7

in.

(

92

mm

)

Approx. Weight

49.6

oz.

(

1,405

g

)

with battery and two XQD memory cards but without body cap and accessory shoe cover
49.9 oz. (1,415 g)
with battery and two CompactFlash memory cards but without body cap and accessory shoe cover
Operating Environment

0–40 °C (+32–104 °F)




Less than 85% (no condensation)